The Monaghan family would like to extend a special thank you to:

Attorney, Craig M. Caliendo, Esquire
Bateman – Caliendo LLC
James W. Iredell House
470 Dresher Road
Horsham, PA 19044
215-443-9060
ccaliendo@batemancaliendo.com
New York City College of Technology
Department of Advertising Design and Graphic Arts ADV 4700
The Epub Design Team:
Grace Moreno and Dana Norwood
Professor Joe Mason, Faculty Advisor and
Professor Mary Ann Biehl, Department Chair
Carole Gregory- Website Design and Site Manager & Friend
Jamie Diaferia- Infinite Public Relations, LLC
The SFA, Sarcoma Foundation of America

---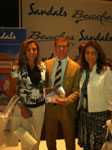 August 2012- Karen Monaghan Arnone and her sister Kathy Brancifort, donate "Adventures of Snooky" to CEO Adam Stewart for his Sandals Book Drive at the REVEL Casino in Atlantic City New Jersey.

Jersey Shore: Karen Monaghan-Arnone, author, offers SNOOKI the opportunity to purchase her "SNOOKY" trademark with a tax deductible donation to the Sarcoma Foundation of America, Cancer Charity. Now that Snooki's a mom, will she do a good deed for a children's charity?

Purrrrfectly Yours,


CONTACT US:

Publicist, James Diaferia, Esquire- New York – 212-687-0935

Bateman & Caliendo LLC; Craig M Caliendo Esquire - ccaliendo@batemancaliendo.com

Donations, books and further information: sales@snookybook.com
Snooky/Snooki Encounters
Our own Snooky encountered fame recently. It seems he was mistaken for Snooki of the Jersey Shore TV program. If you would like to read more about what the press had to say we have archived a few of the clips.