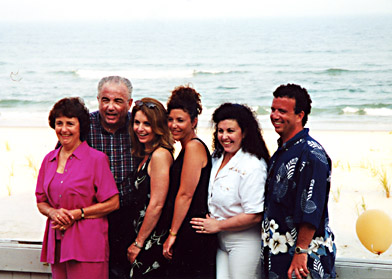 From Left to Right:
Mom, Dad, Karen, Kathy, Maureen & Brian

About Us!
Karen | Maureen | Brian J. Publishing Inc.
About the Book | Press Release



Meet the Monaghan Publishing Team from left to right—Patricia Monaghan, a.k.a. Mom, is our proofreader. With her degree and English-teaching background, Mom helped us proof and re-proof our poetic rhymes.

John Monaghan, a.k.a. Dad, took the lead and started yet another family business, Brian J. Publishing Inc., to help us print our books. With over 30 years in the fine paper, holography and printing business, he was the expert to help us publish this book! As president, He helped us fulfill our promise to Brian.

Karen Monaghan-Arnone is co-author and has a passion for fishing just like Snooky!

Kathy Monaghan-Brancifort owns First Class Travel, www.travelclubfc.com! She's a trip!

Maureen Monaghan-Faber is co-author and GM of a health club and full of fun!

Brian J. Monaghan is our spirit!

Karen Patricia Monaghan-Arnone

A rhyming writer from early childhood, Karen was born in Dresher, Pennsylvania in 1961. She is a mother, a professional angler, and was the director of marketing for the family business, International Holographic Paper, since 1996. With a B.A. in communications, Karen worked in television, events and multi-media for over 18 years in Toronto, Canada. With her own Canadian national television series, The Natural Angler, she is recognized in the sporting industry as a professional enthusiastic angler. When she joined the family business, she used her marketing skills to take the family holography company to a level of international recognition. The successful marketing of IHP and Brian's invention led the family business to a sale in 2001. Karen has since settled back in PA to spend time with her family, and dedicated a year to publishing this childrens book in memory of her brother. With high expectations, Karen hopes to start promotional tours to publicize the iBook to raise money for SFA.

Maureen Monaghan-Faber

As wife, sister and mother of a beautiful 14-year-old daughter. Maureen raises awareness for Tourettes Syndrome and Sarcoma. Maureen became the perfect test market for this book. Also born in Dresher, PA, Maureen and her family now reside in New Jersey. Maureen's Bachelor of Science degree enabled her to become the General Manager for a large health club facility. Maureen often writes for the press and now has lent her skills to the authoring of this children's book in memory of her brother. In her spare time, Maureen and her family can be found on her boat at the "Jersey" shore!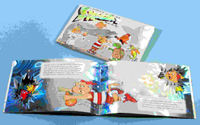 Click for larger view

About the Book:

We designed the cover to be an extreme attention-getter and to explode with holograms and color. Adventures of Snooky is a unique book with a cute story and loveable characters. With its 'kitschy' holographic cover, we guarantee it will catch and keep your child's attention! Adventures of Snooky won the "American Graphic Design Award" for excellence in communication and graphic design.

Email: sales@snookybook.com

Press Release

LOCAL FAMILY PUBLISHES HOLOGRAPHIC CHILDREN'S BOOK, WINS AWARD & DONATES TO CANCER RESEARCH

Some of us spend years thinking about making a difference in the world, while others go out and get it done. After an aggressive cancer took the life of their younger brother Brian Monaghan, the family found a unique way to heal and help fight for a cure for sarcoma cancers. John Monaghan, Brian's father, stated, "Brian and I owned an internationally recognized hologram company. As experts in the field of 2-dimensional holography, we knew that the power of holograms used in marketing products, would work great as a children's book too. We all got together to create and publish the first 2-D holographic children's book in the world, Adventures of Snooky, Under the Sea and it is fantastic!" The book is an adventurous tale about a cat named Snooky, who lost his family while fishing at sea. Find out what happens when Snooky's new friends run into danger. Can he save them? Will he ever find his family? Adventures of Snooky is filled with hidden, sparkling, holograms and snappy rhymes that children find irresistible.

The book was inspired, written and published in memory of Brian J. Monaghan - son, brother, husband and loving father of five children all under the age of ten. Brian suffered from two forms of rare, aggressive sarcoma cancers - Leiomyosarcoma and Chondrosarcoma. Although he was only thirty-four years old when he died, Brian held three U.S. patents for holography and had won awards for his holograms all over the world. A private pilot, fisherman, scuba diver, ski instructor, devoted husband and father, Brian loved life and it showed.

"From his hospital bed, a few days before he died, Brian asked our family to publish Adventures of Snooky Under the Sea as a way to raise awareness of sarcoma cancers and to help fund the research needed to find a cure," says Karen Monaghan-Arnone, Brian's sister and co-author of the book. Maureen Monaghan-Faber, also a co-author and sister adds, "Brian designed the holograms in this book. He knew that the adorable characters, rhyming story and the sparkle of the holograms would capture the attention of children. We all hope the proceeds that we raise through the sale of this book will help find a cure and save other families from this type of tragedy."

Adventures of Snooky won the "American Graphic Design Award" for excellence in communication and graphic design! "We were thrilled to learn that it was selected as a winner by a nationwide panel of judges. This competition is among the most prestigious and most selective in its class, we are truly honored!" notes John Monaghan.

Adventures of Snooky Under the Sea can be purchased online at www.Snookybook.com. A portion of the proceeds is donated to the "Sarcoma Foundation of America, In Brian's Spirit" and to the "Brian Monaghan Scholarship Fund" through the Paper Cordage of Philadelphia. Last year nearly $25,000 was donated for Sarcoma Research in Brian's name.

We look forward to you helping us raise Sarcoma awareness by sharing our story.

The Monaghans are available for interviews. We're just an email away.